First, you gotta understand the that whole country is obsessed—obsessed—with a reality TV show called The Great British Bake Off.
Yes, it is a show about how well you can bake cake (which actually is one of the major food groups in Britain, because you can't have tea without a bit of cake) but also crazy technical things like raspberry mille-feuille (I had to google them too.) This is legit zeitgeist water cooler chat, you guys.
And last week, 14.5 million people watched the final—the biggest TV audience of the year—which was won by Nadiya Hussain, a Muslim British Bangladeshi woman who's normally a stay-at-home mom to three kids.
And the country loved her. Even though during the first show she was ranked last, she grew and improved and impressed everyone til she was the favourite to win (even the bookies said so). Britian got all teary and emotional with her as she proclaimed after winning:
You guys, I don't even watch this show, but I've been reading all the brilliant interviews with her because I'm just so excited. People grew to love Nadiya because she was a real person just hanging out in their living room every week via the telly, laughing at her inability to roll out pastry, joking with the other contestants, making funny faces, and basically being a fellow human being. I mean, how can you not love this:


She had the best one-liners:
(after a tricky soufflé round): "That was stressful. Oh my God. I'd sooner have another baby. I really would."
OBSESSED with Nadia's facial expressions on Great British Bake Off. pic.twitter.com/SPnOiDWsOS

— Mats Strandberg (@matsstrandberg_) September 26, 2015
I would have just copied this whole list of reaction gifs and reasons why the internet loves her here but you can click on through.
Honestly, I think it's probably the first time most of those 14.5 million people watching will have seen an actual real hijab-wearing Muslim woman having fun.
The right-wing press has had varying reactions, but to their credit, The Daily Mail (normally the epitome of tabloid-reactionary-headlines) published an analysis from Yasmin Alihabi-Brown, a liberal Muslim commentator who pointed out:
Yet by winning the show with such grace, humour and dignity, Nadiya has done more to further the cause of Asian women — and men — than countless government policies, think-tanks, initiatives and councils put together have achieved in the past half-century….

And watching her, I realised that you can fight discrimination and exclusion in many ways. Sometimes by forcibly opposing it; at other times by sweetly disabling it and making people laugh.

The power of the latter should not be underestimated.
This. This this this. This is why we work so hard to get people of different backgrounds together in a room to share a halal pizza. Or, as The Guardian put it in their in-depth cultural analysis of why the Bake Off phenomenon speaks to the British soul:
Which is not to say that the multiculturalism of the tent is unimportant: Nadiya is the first British woman who wears a hijab to have occupied such a positive, joyous role in British mass culture. On Monday, prime minister David Cameron was reported as backing her to win, praising her "coolness under pressure". Merely by making meringues she may have done wonders for interfaith harmony.
I finally figured out why I was so excited by Nadiya's win when I saw this: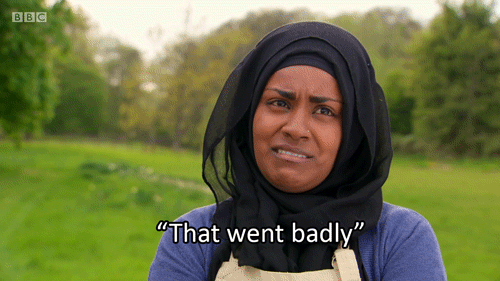 I've seen that exact same "Obviously!" face on the Bengali teenage girls I work with, and it cracks me up. I love it when their sass and attitude come out, and I feel privileged that I get to learn from these brilliant young women and be their friend.
And I realized that just as my life is richer and has been changed for the better because these teenaged girls have invited me into their world—that's what Nadiya is doing for the whole country.